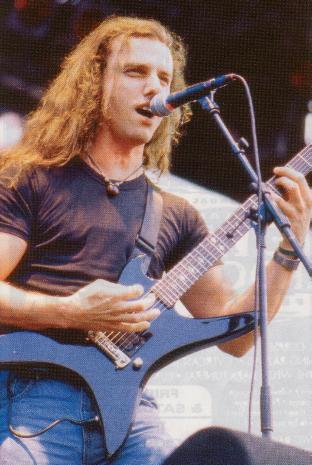 May 13, 1967 - December 13, 2001
(A fellow Taurus he was)





Chuck Schuldiner executed flawlessly and had an inarguably accurate stranglehold on why heavy metal is such an important part of the lives of those it touches, and this is my way of saying "thank you" to him for that...

- From allmusic.com

Over the course of more than a decade and seven increasingly accomplished albums, Chuck Schuldiner, the architect behind the ubiquitous Death, became a bona fide heavy metal icon. Now widely recognized as the father of death metal (if a single candidate must be chosen, his resumé is about as good as it gets), Schuldiner's singular drive and ruthless creative vision guaranteed that Death retain a pole position at the forefront of the style's development. Indeed, while the savagely raw aggression contained in Death's first three albums proved crucial to spearheading the first generation of death, and subsequently grindcore bands, the astounding musicianship and increasingly sophisticated songwriting found on their later-day efforts may have influenced even more groups exploring the limits of extreme metal's progressive outposts. By all accounts a force to be reckoned with on-stage, Death also logged more frequent-flier miles than perhaps any other band of their extreme metal ilk, undertaking numerous far-reaching tours despite suffering from continuous and acrimonious turnover within their ranks. Throughout this long journey and drastic evolutionary curve, Chuck Schuldiner was the only constant, the effective mastermind behind Death's continually groundbreaking career, and his near-canonization at the time of his untimely passing only confirmed his unequaled stature at the top of rock's most uncompromising style.



One of the greatest things I've ever seen was a simple little one liner in the signature of someone on the Necrophagist message boards, and it said "IF you don't like Death, you don't like metal." The one thing I have always found in those who appreciate said genre is that they all have an enormous admiration towards and appreciation for the work Death did. It really made me see over time how much an impact Chuck made, and proved yet again that the most powerful music will always be the kind that people pour nothing less than their entire heart, soul, sweat, blood, and tears into.

It's always puzzled me however why we choose the day of the year on which something happened to remember it? I understand that it falls on a set scheduled point in time, based on a system of time broken down into intricate sections and measurements, but none of that matters, because not a day goes by anymore that I don't think of what things may be like with Chuck still around. I didn't know him or his music when he was alive, which tends to anger me, but the music that man created while incorporating so many incredible young talents into the Death legacy is nothing short of poetic brilliance.

The naysayers that helped to inspire him and his works, I thank you. Without those who would try to cripple a force as impenetrable as Death, the music would have sounded quite different, and I couldn't ever dream of such a thing. It also tells quite a lot when you realize how proud of Chuck his mother truly is, when you read what she writes and see the work shes put into the Death site, www.emptywords.org.

What do I hope to acheive with this little tribute, typed up over the course of an hour in my meager neglected online journal? Nothing. It's my peice of mind, it's my way of saying thank you to someone who I never knew in his life, but worship in his passing. So to one of the finest composers in modern metal, one of the most incredible guitarists to ever shred the instrument, the father of death metal, and the man responsible for so many competant metal-virgins being offered a position on the Death roster... Thank you. From the bottom of my heart, a million thank yous for the tears, the smiles, the warm feelings deep within, the countless wonderful experiences I've had while enjoying the art you've provided this world forever. Continue your peaceful slumber -- you are dearly missed, and cannot be forgotten.



From emptywords.org
At last we want to thank everybody who organized something in remembrance of Chuck or paid attention to this good cause to let the metal flow. For those who don't know yet, please check out our Benefit page for some more details on these events. Thanks again!


Message from James Murphy:
As we mourn the recent passing of one musical giant the calendar marks the 3rd anniversary of the tragic parting of another, equal in stature and influence, and as deeply missed. I so very much wanted to complete the Within The Mind tribute album by this day, but the logistics of organizing so many great talents has proven far more daunting than I ever would have imagined. Still, the progress has been good and I feel in my heart that Chuck would be proud of our efforts, and would want a special dedication placed on the album for Dimebag Darrell Abbott. The names, memories, and spirits of Chuck, Darrell, and many other fallen musical heroes will live on with us all and inspire the heroes of the future. This is the true destiny of their legacies and, above all material considerations of fame and wealth, is the best that any musician can ever dream of attaining: a true contribution.

Rest in peace Chuck and Darrell, you will live on through your music forever.





(Darrell Abbott and Philip Anselmo)

August 20, 1966 - December 8, 2004



"Do you remember when
Things seemed so eternal?
Heroes were so real...
Their magic frozen in time
The only way to learn
Is be aware and hold on tight"